improve your working space
​
From the initial design process, through to production and fitting. If you have a project in mind, then why not get in touch to see how we can help.
Bespoke wallpaper graphic
Bespoke wallpaper graphic
Castle Vale Housing - Birmingham
One of our latest projects at Castle Vale housing included a bespoke wallpaper with graphic overlay, a magnetic notice board and wall graphic.
Incorporating their corporate colours these all tie in nicely to produce an inspiring, professional community and work space.
​
​
Lickey Hills Primary School - Birmingham
Lickey Hills Primary School were looking for a completely unique and fresh look for their reception area. We were commissioned to create and fit a feature wall with graphics.
We designed a bespoke digital wallpaper incorporating school equipment in a subtle line drawing style.
Cut-out acrylic lettering and school crest helped to create a striking visual entrance, whilst maintaining a fun element.
Marple Station - Cheshire
Marple Station is said to be the inspiration to Agatha Christie for her amazing Miss Marple female detective character.

To celebrate the 150th anniversary of the station Seeing the Big Picture, working with HarperCollins Publishers and the Agatha Christie Estate produced these large bespoke snap frames and vinyl prints to showcase 10 of her most illustrious book covers.
UCH Macmillan Cancer Centre - London
Seeing the Big Picture were delighted to be part of another exciting project working with HCA and the excellent commercial photographer in Yorkshire, Dan Dunkley.
The UCH Macmillan Cancer Centre is a new build hospital nestling in the heart of London. This five storey building, bursting with natural light and spaces was ideally suited for large format pieces of acrylic art. In total over 60 pieces of large format acrylic prints featuring some of London's iconic buildings and landmarks were produced and fitted.

Browse the video to see the prints on show.
Large Format Acrylic Printing
Large Format Acrylic Printing
Colchester High School - Colchester
These are the kind of projects that we love to be a part of.
Colchester High School commissioned a photographer to take head shots of students. They were looking to create something a little more interesting, so we digitally customised each one in a Warhol style.
Final artwork was reproduced as a 3ft x 3ft acrylic print, giving a contemporary feel and lots of vibrant colour!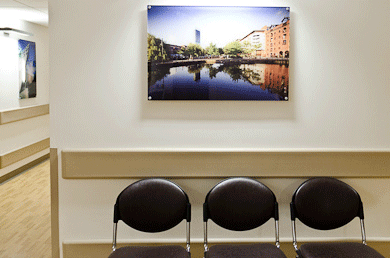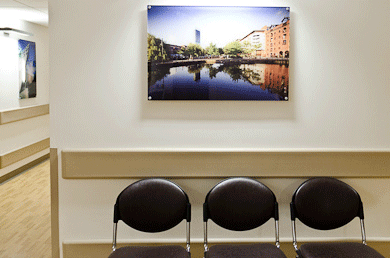 Christie Hospital - Manchester
Seeing the Big Picture were asked to produce acrylic artwork for the new wing opening in this great foundation.
Once again a tight schedule, however working closely with the client we were able to make sure all pieces were scheduled and delivered on time...without compromising on the fine detail and quality.
In total 70 large pieces of acrylic art were made to adorn the halls, walls and patient wings. Imagery for the artwork was taken by Manchester based photographer Dan Dunkley and included a series of stunning landscapes and city shots.
Royal Veterinary College - Hertfordshire
The RVC needs no introduction, so we were obviously delighted when commissioned to produce and install fourteen large pieces of acrylic art for this newly refurbished reception.
These life-style shots consisted of pets actually owned by the vets at the college. Therefore you can imagine that when it came to fitting there was quite a lot of excitement in the reception. Not withstanding that, we also had the added pressure that the building was to be officially opened by HRH Duchess of Cornwall just two days later.
The contemporary style of these acrylic art pieces balanced well with the style of this modern build.
All pieces were designed and fitted with great care, creating a spectacular entrance to this state of the art building.